With the Ashes secured, it was time to move on from Perth today.  It will always have a special place in our hearts – a hotel with airconditioning that works and winning The Ashes will do that for you.
You really get to know the players.  Now that our personal financial situations allow it, The Prof and I always pay the "accommodation upgrade option".  The standard of room provided for the players these days is pretty high, but we've taken to occupying the Presidential Suite in any hotel we visit, making sure we get in first before The Captain makes his booking.  I've heard he was OK with the sub-penthouse this week, as even he blanched at the prices here.  When I asked The Prof how much our accomodation cost, he went all misty eyed, and mentioned something about the GDP of a small African nation, and quickly changed the subject.
The players are scattering around the country for the little while.  The bowlers are off for a week in the company of their physiotherapist of choice, while some of the batsmen get to have a run in the Big Bash League,  notably Trapper, Puff and Mr G.  During our last team meeting in Perth, they were given a rather illuminating safety briefing that Coach2.0 said was as essential part of  them being "allowed" to play some hit and giggle. 
The hazzards they need to watch out for are:
 – fireworks and shards of hot metal from same on the pitch
 – flamethrowers, and falling charred bird life caught up in the flames
 – cricket balls being thrown back into the arena from the crowd (average number of sixes hit per innings: 9.3)
 – head injuries from low flying spider-cams or gyro-copter mounted video cameras.  There are a few at each game.
 – damage to their personal brand equity should they say something "inappropriate" while wearing a mic for the host broadcaster.
 – damage to their hearing from the ground PA.  From a workplace health and safety point of view, the players are required to wear ear plugs at all times apart from when at the crease batting. [Ed. Pity the crowd who have oto put up with 3 hours of over-wraught announcements, pretend excitement and embarrassing theme songs.]
The meeting broke up with another round of handshakes and back-slapping, but everyone is exhausted – physically as well as mentally – after the triumph in the heat, so the mood was actually pretty subdued. We didn't even get too excited about our daily game of "What Would Gina Do?"  After awarding Tatt's the prize for having bought the most expesive cup of coffee during the week [Ed. at $6.50, and tasting like it had been filtered through Wicky's socks] we dispursed to pack up and "head East" as they say here.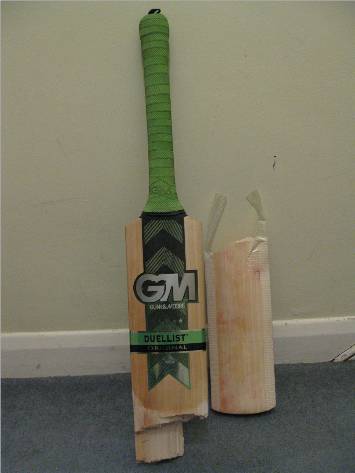 Wicky's socks, and the rest of his kit, continue to provide much amusement.  He's been pretty sensitive since we gave away half his stuff in Adelaide in exchange for access to the English Team's gourmet food [Ed. I think it ws Day 4]  He's dead scared one of his sponsors will see the stuff on ebay, and that the stream of freebies might dry up as a result. He's been trying to buy most of it back as quickly as possible, so he's always getting odd-shpaed parcels in the post.  The Prof and I have been stringing him along a little, picking up discarded flotsam and jetsum from the dressing room and the hotel laundry then posting it to him so he thinks it's something else he's bought on ebay. He still hasn't twigged, even though he's now signed for three more broken bats than he's actually bid on.
Goodbye, WACA, and thanks for the memories.
Did anyone say it was hot? Damn hot!